SBI Helps You Build
a Business,
Not Just a Web Site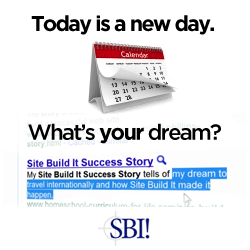 Psssttt . . . Have you wanted to build your own web site, but like me, have no technical knowledge of website-building and are afraid the learning curve is just too high?
Then we have great news for you. We've discovered a company that provides all the tools you need, and most importantly, the education and information you need, to successfully build a business online, not just slap up a web site that no one will ever find. After all, it takes as much time to build one that no one will find as it does to build a site that will rank highly with the search engines. So you might as well invest your time wisely, and build a site that will be successful
And it provides these tools at an exceptionally reasonable price, along with priceless encouragement and support unrivaled anywhere on the web.
So, which of these best describes you?
Are you